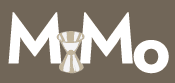 Ok, so this is our virgin endeavor here, so bear with us. Here's the explanation from
Cocktail Virgin(?)
:
"Tea has played a historical role in cocktails for centuries. Perhaps the best documented early example was its inclusion in punches as part of the spice role to round out the spirit, sugar, water, and citrus line up. Later, teas appear in many recipes such as Boston Grog, English Cobbler, and a variety of Hot Toddies. And present day mixologists are utilizing tea flavors with great success including Audrey Saunder's Earl Grey MarTEAni and LUPEC Boston's Flapper Jane. Now it's our turn to honor this glorious cocktail ingredient!"
First, we have a riff on a pretty common cocktail, the Blueberry Tea, which we'll call the Blue Monday.
.75 Earl Grey infusion*
.75 Lazzaroni amaretto
.75 Grand Marnier
.5 lemon juice
.5 honey syrup**
1 egg white
Shake and strain into a cocktail glass or something of the sort.
*1 cup of earl grey in NGA for 24 hours. Double strain.
**1:1 honey and boiling water.
And one more:
Hilltop Pearl
1 jasmine pearl infused viognier*
1 vodka (yeah, so what?)
.5 honey syrup
.5 lemon juice
Float with dry sparkling wine
Shake and strain into a brandy snifter. Float with dry sparkling wine.
*1 cup jasmine pearl tea in 750 ml viognier. Steep over night in cooler, then double strain and keep refrigerated.
Sorry for the bad pics...
1022 South