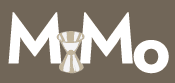 Alright everyone, here's our second foray into the
MXMO
madness. Yeah, I know we didn't do anything right last time...I think I get the rules now. Or maybe not...
Here is what our host
Sonja
has to say about absinthe:
"The topic for February is Absinthe. That much maligned, misunderstood, mistreated spirit, suddenly plentiful again in the US and other parts of the world. Absinthe played a role, whether large or small, in a variety of great cocktails from the 1800's and early 1900's – the Sazerac, Absinthe Suissesse, Corpse Reviver No. 2… I'm getting thirsty. So let's celebrate absinthe's history, and it's future, with all manner of cocktails using absinthe."
Before I get too far into this, I want to say that a couple of us at
1022
love absinthe. So, there's was lots of fussing around with recipes (some good, some bad, all forgotten)before we came to, well, the deadline. I also want to say, thank you to all the space monkeys. Some of you burned up in the stratosphere, some of you have sailed off into the heavens; either way, I salute your courage. And, with no further ado, here's what we have to contribute:
HR 1022
2 oz bourbon
.5 oz Luxardo Maraschino liqueur
.5 Dolin Italian vermouth
barspoon of lapsong souchong syrup*
barspoon of Pacifique absinthe
Shake, then strain into chilled coupe. While I have never had it, this drink was nevertheless inspired by
Tavern Law's
Gun Club.
I feel like this next one needs a bit of explanation. We like to do shots at the bar, so we gussy them up, self-deprecatingly call them amuse-booze (actually, we're being quite glib), or whatever. Still, at times we like a cold beer and a shot of hooch to go straight into our faces. With that in mind, inspired by the latest issue of
Imbibe
, here we go:
Devil's Handshake
1/3 Fernet Branca
1/3 Pacifique absinthe
1/3 raw ginger syrup
This was a fun one. I wish I had written down the recipe for sazerac with the honey/absinthe foam. I guess that's for another time...
*1 oz lapsong tea in 2 cups boiling water, 2 cups sugar. Stir and let rest until it is mas o menos room temp, then double strain.
1022 South